So, the wish come true for XRP enthusiasts –Yes, Coinbase Exchange is listing long awaited XRP on its professional trading platform, Coinbase Pro As soon as the listing hit the market, the price of XRP suddenly spiked with 11.36 percent within a couple of hours.
It was announced on Feb 25, 2019 via Coinbase's official blog. However, to begin the move, Coinbase has initially rolled 'transfer-only' mode – which means users can only deposit XRP tokens. And following the span of 12 hours, the platform would more likely activate the other trading services as well.
When XRP?? Now! XRP/USD, XRP/EUR, and XRP/BTC order books will soon enter transfer-only mode, accepting inbound transfers of XRP in supported regions. Orders cannot be placed or filled. Order books will be in transfer-only mode for a minimum of 12 hours. https://t.co/MWUtUm4wRh

— Coinbase Pro (@CoinbasePro) February 25, 2019
At the initial stage, only users in selected regions such as US (excluding NY), UK, Canada, Australia, Singapore, Supported European Union member nations – can enjoy the services. The blog further reads to add other jurisdiction in near future.
After 10am on February 25, 2019 we will begin accepting inbound transfers of XRP to Coinbase Pro. We will accept deposits for a minimum of 12 hours prior to enabling full trading. Please note that inbound transfers require the specification of an XRP destination tag.
The listing of XRP on Coinbase was on a rising demand from XRP community members – as such whenever a new listing announcement hits on Coinbase, XRP enthusiasts kept on hoping the next listing would be XRP – but it made possible today. However, XRP will just be available for users of Coinbase pro and not on 'Coinbase.com or via its mobile apps' (Android and iOS)
Further, it points out the four phases of listing XPR on Coinbase – As noted on its official blog;
Transfer-only.Starting after 10am PT on Feb. 25, customers will be able to transfer XRP into their Coinbase Pro account. Customers will not yet be able to place orders and no orders will be filled on these order books. Order books will be in transfer-only mode for at least 12 hours.
Post-only.In the second stage, customers can post limit orders but there will be no matches (completed orders). Order books will be in post-only mode for a minimum of one minute.
Limit-only.In the third stage, limit orders will start matching but customers are unable to submit market orders. Order books will be in limit-only mode for a minimum of ten minutes.
Full trading.In the final stage, full trading services will be available, including limit, market, and stop orders.
It's worth to note that the listing bulletins quitely influence the value of XRP to 11.36 %, counting average trading volume $13,952,548,937. As per the data from coinmarketcap – the current value of XRP is $0.337298 respectively.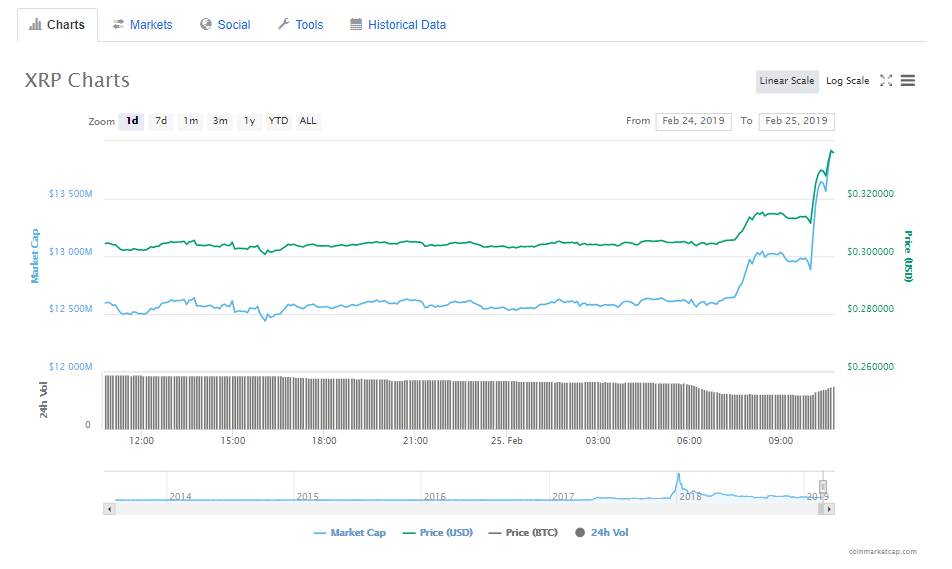 The listing announcment is truly a great news for all those who were eagerly eyeing on Coinbase to list XRP – however the demand reached the peak when XRP hit the top second position during November. Perhaps, the exchange took longer to accept the request and announced the support of XRP on Feb 25, 2019, making it initially available with XRP/USD, XRP/EUR, and XRP/BTC .
So for now – XRP is only accessible on 'Coinbase Pro' – stay tuned with Ripplecoinnews to know when the announcement for XRP on Mobile Apps and Coinbase.com hit the Coinbase media. Share your opinion with us 


Credit: Source link