The blockchain revolution is in full swing. This is the marquee technology of this era because of its disruptive potential especially in financial institutions.
Naturally, a lot of tech enthusiasts and anyone for that matter would want to get in on the action. This is because the distributed ledger technology represents the future. There are a myriad of ways to learn but the most convenient channel is online Blockchain courses.
Some of these courses can take a dedicated person from a blockchain newbie to a developer in a matter of weeks. This is because they are packaged and tutored by experienced innovators and experts whose insights are unmatched.
Let's go through a general overview of Eight such courses:
1. Udemy: Blockchain Fundamentals Course
This is a best-selling video course that comes with a great PDF glossary.  This course is basically for anyone with an interest in how Blockchain and Bitcoin work. On the Udemy website, the course has over 11,200 reviews and a 4.7 star ratings for simplifying the blockchain introductory experience for more than 43,000 enrolled students.
George Levy, the course instructor is an award winning Instructor on Blockchain and Bitcoin. He is a self-styled Blockchain missionary and certainly seems to be doing a great job at it. The package is conveniently priced at $11.99 .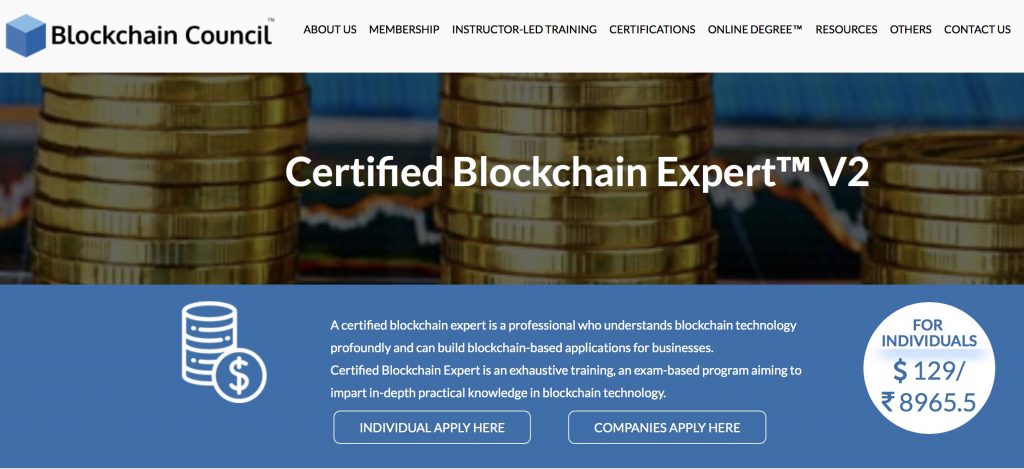 In a nutshell, a Blockchain Expert is an individual who is enthusiastic and understands what blockchain technology is. Besides simple know-how, he/she must be in a position to build dApps for businesses. This exam based course is specifically tailored for individuals as investment bankers, professors, programmers and others who not only wants to explore blockchain but wants to apply their knowledge as they solve real world problems. To begin, participants should have a basic understanding of computer science, know what blockchain or Bitcoin and motivated to understand this technology in a deeper level. This $129 Blockchain course takes six hours with one hour of examination and after completion students are issued with certificates valid for one year.
Read more about this Certification Here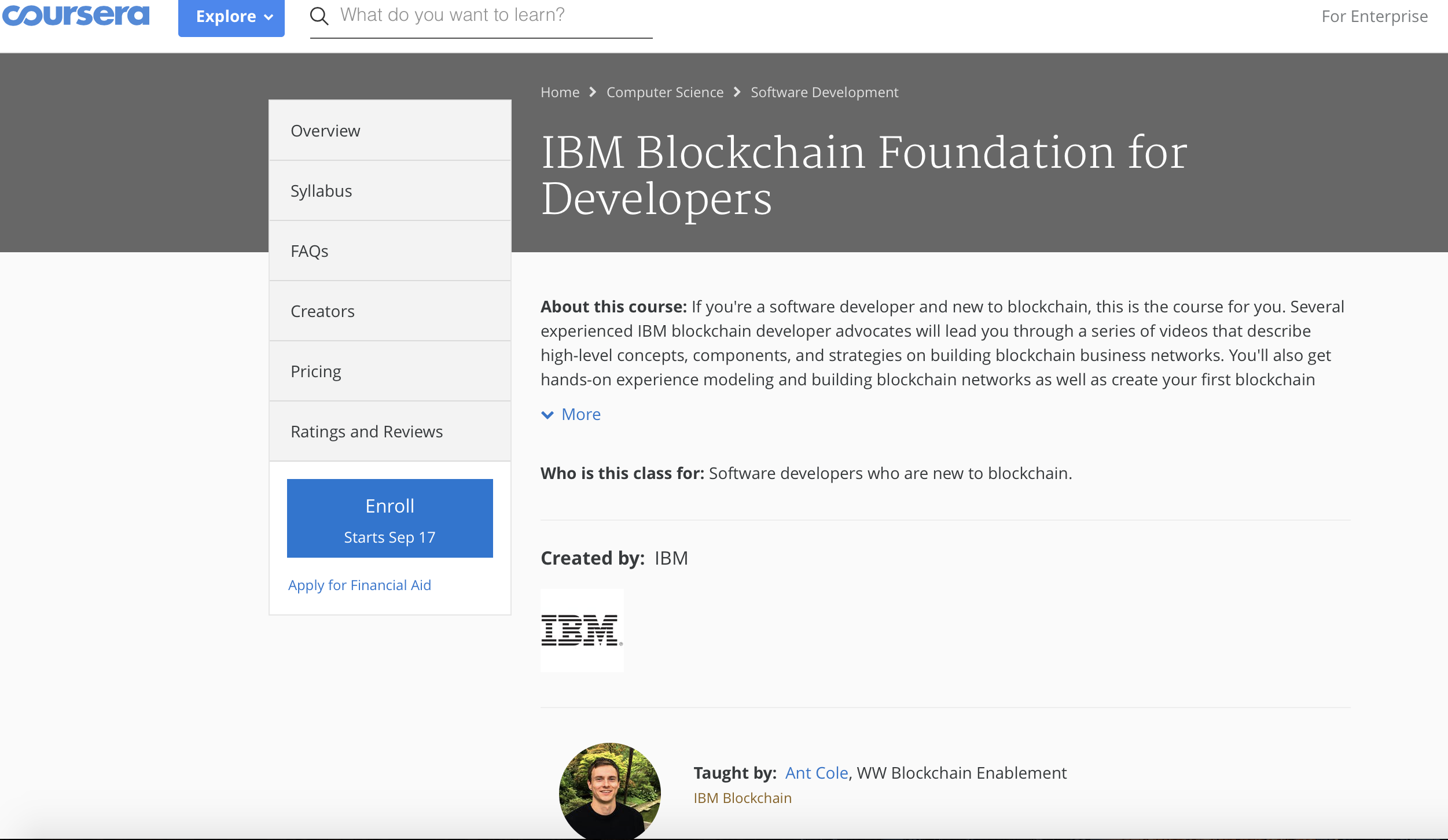 This course is essentially for software developers getting started with blockchain. IBM definitely lends great institutional credibility as it has an impressive reputation for innovation spanning decades.  Experienced IBM developers like Ant Cole will guide you through high-level concept, components and means of creating blockchain business networks.
The introductory part of the course deals with Blockchain basics and no programming skills are required. However, as you go forward, command prompt and JavaScript become necessities. The goal of this course is to give developers ability to build and model simple blockchain solutions,
Upon completion, you get a Coursera certificate and an IBM digital badge.  The course goes for 6 weeks and should leave you with Blockchain operability skills.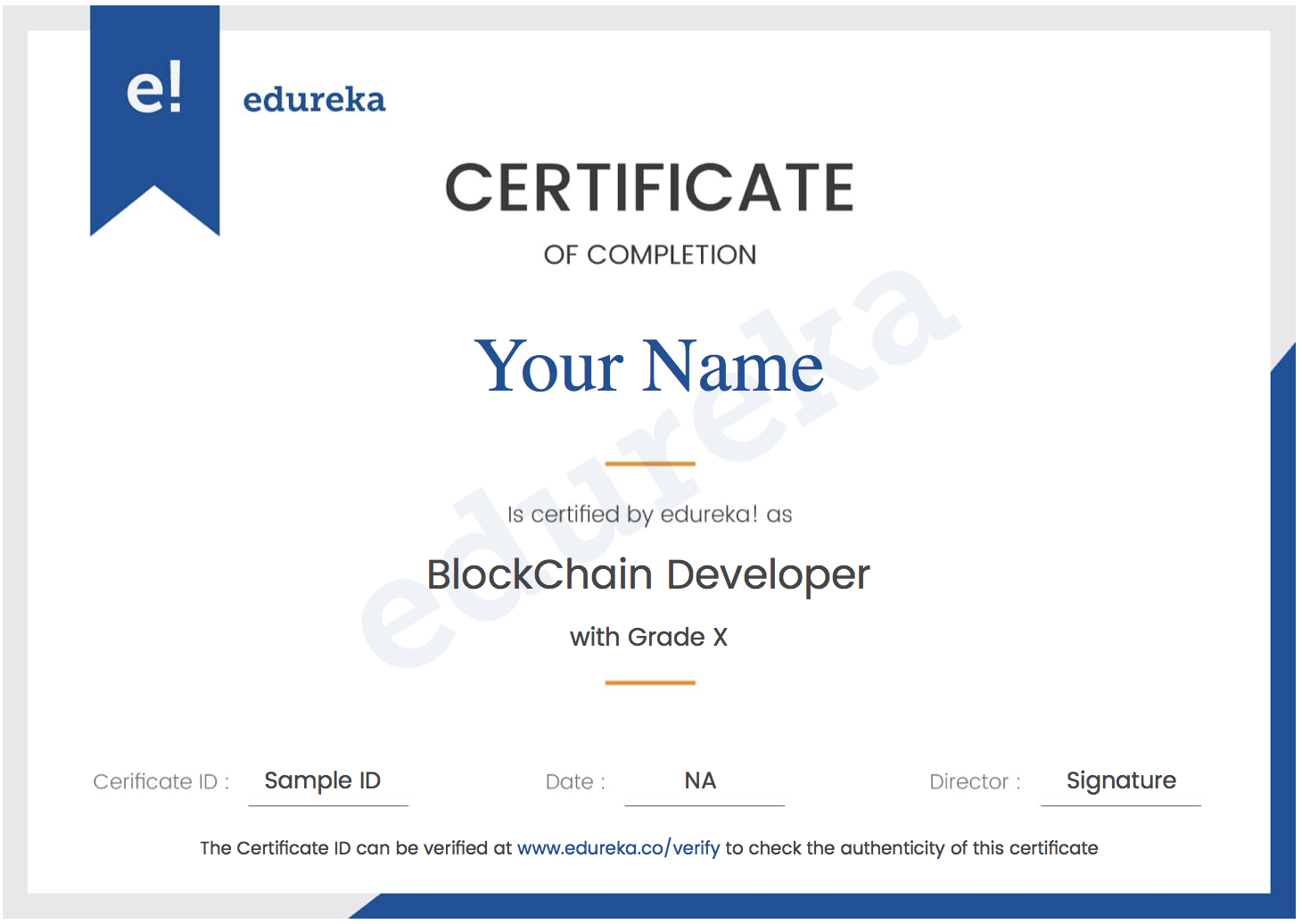 Undoubtedly, blockchain is one of the greatest inventions of the 21st century. Not only is the technology disruptive, but a lot of government are banking on the nascent technology. In fact, the World Economic Forum project that by 2025, 18% of all the global GDP will be from blockchain related activities. That's not all, Bill & Melinda Gates Foundation plan to use blockchain technology to bank the unbanked. As the world evolve and benefit from the blockchain inherent properties, so will blockchain experts. It is estimated that the average annual salary of an Application Developer will expand to $85,000 while that of a Senior Software Engineer will be nothing less than $115,000 per year. This is why learning the rope is of vital importance.

Luckily, Edureka is laying the foundation for their students. It doesn't matter as long as there is zeal, anyone can enroll. However, Blockchain Certification Training is best suited from finance professionals and software developers.
The tailor made Edureka's Blockchain Online Course will take the student through the overview of Bitcoin, Ethereum, Hyperledger and Multichain Blockchain platforms. All you need is basic knowledge of Command line and Linux. It's not necessary though because Edureka has complementary and basic course taking the student through Linux, Nodejs and JavaScript.
From the Blockchain Certification Training, learning how Ethereum works will fast track your smart contract and create private chains knowledge. Beside, from Hyperledger composer, a student will get the details on how to deploy business networks while simultaneously learning how to deploy a private Multichain environment.
The Blockchain course you will hone your skills and understand the different consensus algorithms and types. Apart from that you will:
Grasp the technology behind the purpose, type and inner working of a distributed ledger technology (DLTs)
Learn about different hashing algorithms
Expand more about Smart contracts and decentralized applications
Know how to set up private blockchains using common blockchain environments as Ethereum.
Depending on your availability, each batch cost $399 $339. Blockchain Certification Training can vary from 15 days to five weeks. At the end of it all, a certificate will be issued.
5. Udemy: Ethereum And Solidity Course

Udemy makes another entry into this catalogue with another great Ethereum themed course. The course requirements are a decent knowledge of JavaScript and NPM. Stephen Grider, the course instructor, is an experienced tutor and offers great direction.
Course objectives and characteristics:
Designing, testing and applying Smart contracts.
An in-depth breakdown of critical concepts of Ethereum
Get to the most recent Ethereum development tools (Web3 v1.0).
Build viable Blockchain applications
Practical Examples of blockchain applications capabilities of the Ethereum blockchain and solidity.
This course has excellent ratings and this is testament to Udemy's commitment to quality and expertise.  The course is available for $11.99

This course is perfect for developers keen on deciphering the global craze surrounding the Blockchain. Learners get to understand the core structure and technical underpinnings of Bitcoin, Hyperledger and other multi-chain platforms.
The course offers 9 practical projects relating to Hyperledger, Ethereum and Bitcoin and more than 50 practical exercise using Blockchain. Besides, there is a seven day money back guarantee in case you don't feel satisfied with the course.
You can use the up-to date expertise to build blockchain applications, set up a private blockchain and even design specialized smart contracts for real world uses.
Who is the ideal target for this course? Currently, the Simplilearn training is perfect for the following:
Developers in general.
Technology architects with interest in expanding their blockchain capabilities, Ethereum and ERC 20 dApps and ICO projects.
Professionals curious on the business application of blockchain technology.
Entrepreneurs in technology keen on the business ideas based on blockchain.
Participants in the course are best served when they have the following:
Fundamentals in Blockchain technology.
A certain level of prior coding knowledge.
Rudimentary software application knowledge.
Expertise in JavaScript, HTML and CSS.
The training will be over CISCO Webex Platform, you can access it over your laptop, desktop or mobile. Also you will get 90 days access to Live classes and 180 days access to self paced learning. along with live classes you will get recording for all classes and self paced learning material.
The course costs $639-799 USD and great channel to upgrade your blockchain skills.

7. Udemy: Build Your Blockchain – Blockchain A-Z

This is perhaps the simplest course in the lot as it needs basic high-school math knowledge only. The course was created by Hadelin de Ponteves, Kirill Eremenko and the SuperDataScience Team who are known experts in the blockchain world. What is distinctive about this course is that the team offers in-course support with real world application projects.
Course objectives:
Learning the fundamental basics of creating your first blockchain.
Basic understanding of smart contracts and how they work.
Getting to understand the basics of cryptocurrency transactions.
This course is divided into three modules. The first module involves how to build a blockchain. Secondly, you get to understand how to create a cryptocurrency. Finally, the third module pertains the creation of a smart contract.
This systematic build-up is excellent for beginners. Besides, the course relies on simple explanations to keep those who enroll engaged. Pricing is $11.99

8. Udemy: Basics of Blockchain

This course is great for blockchain introduction and prepares user to be more open minded about technology. The only prerequisite before starting is basic understanding of the internet and curiosity.
This course has been broken down into four courses with 33 lectures:
Blockchain overview- This section offers the essential basics of blockchain technology. Additionally, you get to explore the internals of blockchain learning jargon as block size, block and important blockchain traits. This process should equip you with basic blockchain concepts like hashing and blocks.
Economics of Blockchain- At this section, the team takes the students back to the early days of internet adoption. They will then compare then and what is currently happening in the blockchain world. In essence the student will be taught about the importance of institutions and how important they are for making an innovation mainstream.
Blockchain Technology-in this module, the students will be taken through the basics of Bitcoin and Ethereum network. Of value in this section is how the team tries to break down how decentralization in general will trade the way value is transferred and traded.
Business Blockchain- This stage is a simple build up and it's the application stage where the student will be introduced to new business opportunities yet to be discovered in the blockchain world. This is because it involves the understanding of the broader blockchain ecosystem. It goes without saying that anyone interested in fervent developments in the blockchain landscape such as approaches to privacy and scalability will be greatly served in the new world.
This step by step approach is perfect for a wholesome educative experience. These courses are developed by Tom Serres, Bettina Warburg, John Fitch and Dr Bill. All in all, it is a wonderful package for blockchain enthusiasts.

Conclusion
In conclusion, these listed courses give great options for hopping on the blockchain wave. Anyone who is interested in the nitty-gritties of Blockchain technology has no excuse for remaining uninformed. This innovation represents the future and it's no use realizing too late that the world has been shifted for under your feet.
Credit: Source link