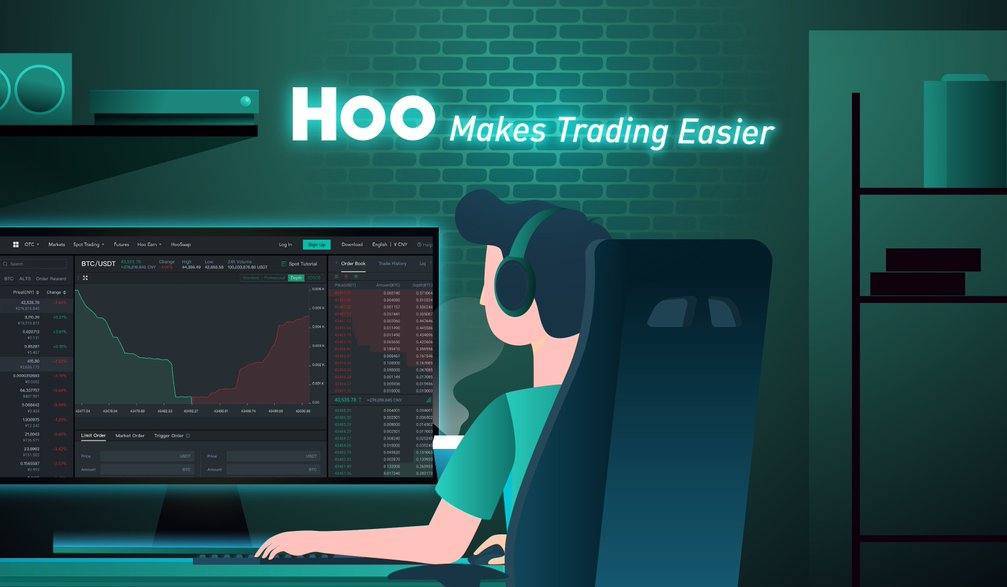 In the last few years, many crypto trading platforms have been built around the world. One of these is the Hoo crypto exchange.
It started as a crypto wallet in 2018 and quickly became a well-known crypto exchange. It has a wide range of products, including an OTC platform, Spot and Futures trading, Collateral Loan, HooSmart Chain, Hoo Custody, Hoo Research, Hoo Cub Fund, Hoo Labs, HooSwap, and Hoo Pool.
Hoo's founder, Rexy Wang, says that the team's main goal is to build a cutting-edge hub for safe trading services. The platform runs on servers that aren't all in one place, which makes the platform more reliable.
Ho oh OTC!
One of the best things about Hoo is its OTC platform, which allows transactions in more than 100 countries and serves more than 200,000 users. Hoo users can choose from a wide range of well-known assets, including Tether (USDT), Bitcoin (BTC), and Ethereum (ETH), all of which can be traded for free and there are no transaction fees.
Hoo also lets you trade in the spot, with more than 400 trading pairs and a TPS of 10,000 per second.
Besides that, Hoo added futures trading, with leverages starting at 5x and going all the way up to 100x the amount of money that was being traded. Perpetual futures trading is a great way to bet on the price of crypto assets in the future and take advantage of their high and low prices.
Earned
Hoo Earn is by far the most interesting offer for people who like to hold on to their money. It gives crypto owners a great way to earn money without having to do anything. Each time users put money into the corresponding contract and lock it up, they start getting interest for the amount of money they put in each contract.
Some currencies can be locked in a fixed, 30-day contract, or they can be flexible contracts, which allow users to get their money without having to wait for the 30-day contract to end. Locking funds in flexible contracts is yet another way to make money work for you. You can get your money at any time and use it how you want.
It's different with fixed contracts. They pay out more each year, with Tether paying out as much as 12% each year, and Ethereum paying out 9%, and Bitcoin paying out 8.65% each year. A business day after the crypto funds are locked, the interest rate will be paid. All of the principal and interest will be returned to their wallet account, which can be seen in their wallet balance.
Collateral Loaning is another part of Hoo's ecosystem that needs money to be put into these contracts. The loan service lets people trade their money for money from other people, with a daily interest rate as low as 0.005 percent.
Together, all of Hoo's products make up an ecosystem that is growing rapidly. They hope to have over 5 million users by the end of 2022. Most of the growth in the ecosystem would come from the best apps for both iOS and Android, which would make the ecosystem even better. Users can trade and store crypto on their phones with the help of the mobile app.
There's an AMM Pool.
It's also possible for people who use the Hoo app to join the company's Automated Market Maker (AMM) liquidity pool, which was added in the most recent app update. Upgrade: Users can now deposit crypto assets into pools of liquidity and share the profits they make by giving them liquidity.
Using smart contracts, the AMM system is completely automated. These contracts collect the liquidity that is available in the pools, and they also pay out the money that the fund provisioning company earned. Users don't have to do a lot to join a pool. They just need to put their money in the right pool and start making money. However, in order for a liquidity provider to join the AMM network, they must have both Bitcoin (BTC) and Tether (USD) in the pool (USDT).
For people who want to make money without having to do anything, there is also a two-level referral program. In the first stage of the referral program, users get 20% of their friends' trading fees as a reward. In the second stage, users get an extra 10% of their friends' trading fees if they bring other people to Hoo.
In this case, the token is called "Hoo."
In order to have a working Smart Chain, Hoo added the HOO governance token to the market. This ensured that the community would be involved in the project's development. The token is also used to pay gas fees on the Smart Chain.
HooPool mining is another benefit of owning and using the token. Tokenholders can use their HOO tokens to participate in the first mining event of a new project, which gives them the chance to join the pool before other users who don't own HOO.
HOO holders can also double their income from liquidity mining and fee sharing, get VIP benefits, get lower fees for handling transactions, and get commission rebates for referring new users. They can also borrow over 20 types of popular cryptocurrencies.
As a note: This is an advertisement for a sponsored press release, and it is only for informational purposes. not what Crypto Daily thinks. It is not meant to be used for legal, tax, or financial advice.