Ecosystem development funds have emerged as one of the most recent market-moving trends in the cryptocurrency business, and protocols with sizable treasuries have learned that reward and incentive programs are one of the most effective methods of attracting new users and protocols to a project.
Harmony (ONE), a blockchain protocol focusing on network scalability, recently saw its token price surge following the announcement of an ecosystem development award. The project makes use of cross-chain contracts and infrastructure to connect different blockchains, including Bitcoin (BTC), Ethereum (ETH), Polkadot (DOT), and the Binance Smart Chain (BSC).
According to data from Cointelegraph Markets Pro and TradingView, the price of ONE has increased 263 percent since hitting a low of $0.095 on Aug. 30 to a new record high of $0.345 on Oct. 25, as its 24-hour trading volume surpassed $800 million.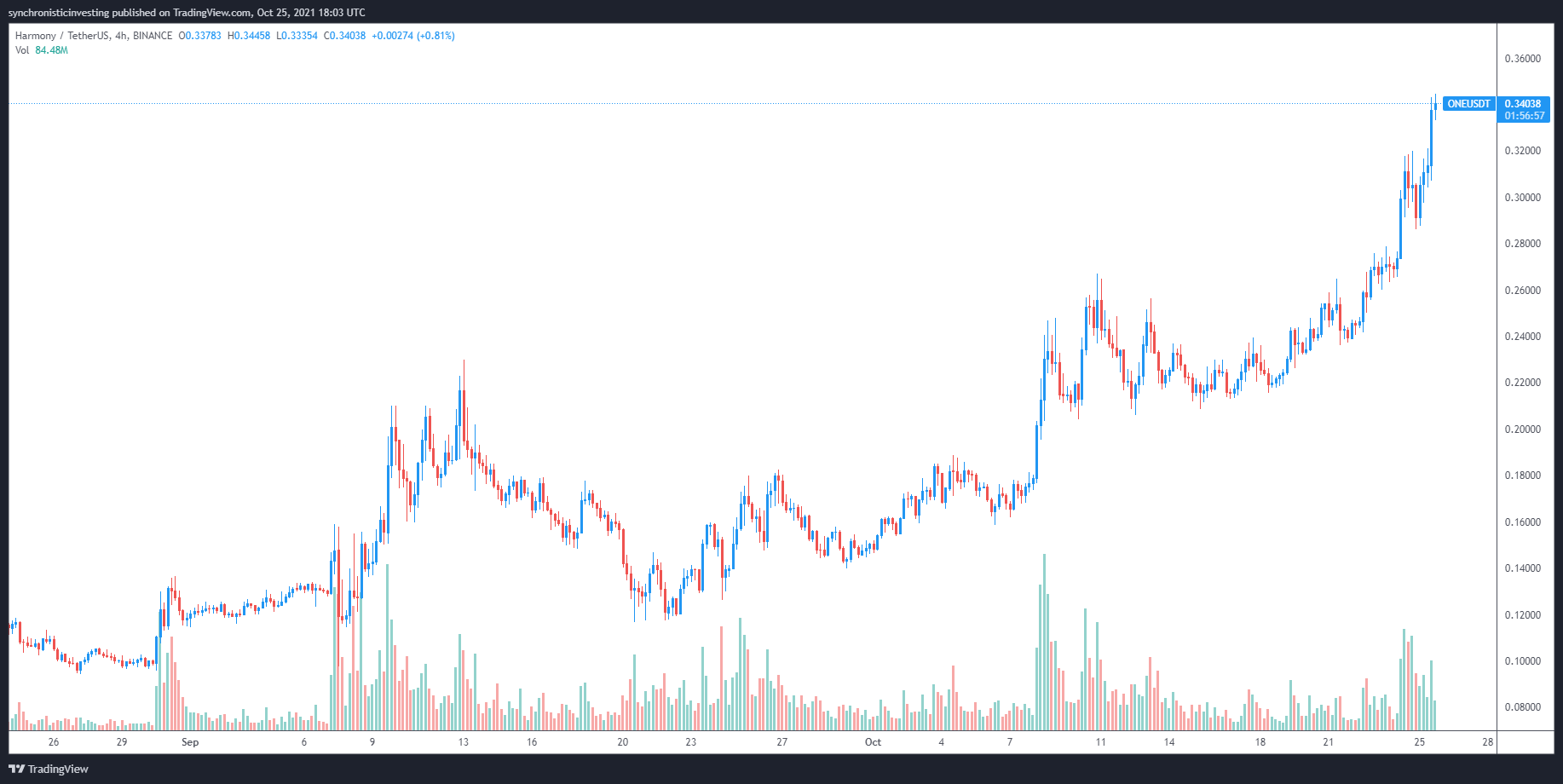 The establishment of a $370 million ecosystem development fund, the successful conclusion of the Harmony One World conference in Lisbon, and the deployment of numerous high-profile protocols on the Harmony network are three reasons for the escalating price of ONE.
Ecosystem development fund attracts new talent
On Sept. 9, Harmony launched a $300 million ecosystem development fund, which appears to have been the catalyst for the increase in ONE during the last two months.
The program's declared objective is to "finance 10,000 additional cryptocurrency inventors, builders, and creatives" in order to assist strengthen and expand the Harmony ecosystem.
Most recently, the project released a year-ahead timeline outlining how it intends to spend $180 million between Q4 2021 and Q3 2022 to support the funding of 100 decentralized autonomous organizations (DAOs), 1,000 bounties, ten partners, one hundred grants, 500 launches, fifty investments, and ten hackathons.
The fund's commitment to its mission was recently demonstrated when it awarded ten new grant recipients during its "ONE World" conference in Lisbon.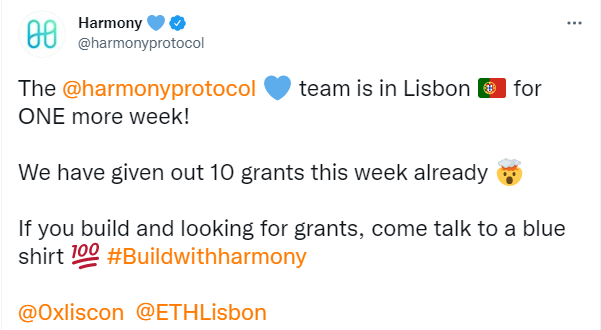 ONE World Conference attracts a crowd
Another reason for ONE's recent strength is the ongoing ONE World conference in Lisbon, which is educating the public about the Harmony network's capabilities and attracting new developers to the ecosystem.
1/ The Harmony ONE World conference is finally here!

The session began with a packed house (following the protocols of course)

The event celebrated the #Harmonycommunity and discussed how to build a better future for the community

Here's what happened! pic.twitter.com/d47BoxGVkb

— Harmony (@harmonyprotocol) October 18, 2021
When the event took place on Oct. 18, it coincided with the commencement of a price boom for ONE, which saw the cryptocurrency's value rise from $0.22 to a new all-time high of $1.25 on Oct. 25.
In order for ONE World to coincide with LISCON 2021, an Ethereum-focused conference that was also hosted in Lisbon and featured protocols that were interoperable with Ethereum and other blockchains, the two events were scheduled to coincide.
Protocol integrations and token listings
A third factor contributing to the recent growth of ONE has been a number of partnerships, which have included integrations with DeFi platforms such as AAVE and Curve.
We've just launched on @harmonyprotocol with some $ONE rewards.https://t.co/n4Fu5C0lNm pic.twitter.com/ytu8sFkE1w

— Charlie Watkins (@charlie_eth) October 12, 2021
The inclusion of two of the most frequently used DeFi apps in the cryptocurrency ecosystem has assisted in expanding the reach and userbase of the Harmony blockchain, which offers significantly lower transaction costs for users of the popular protocols than other blockchains.
The debut of the WePiggy lending mechanism, as well as the publishing of a ONE/USDC pair on Crypto.com, are two examples of recent additions to the ecosystem.
A optimistic prognosis for ONE was first detected on September 29 by VORTECSTM data from Cointelegraph Markets Pro, which occurred before the latest price increase.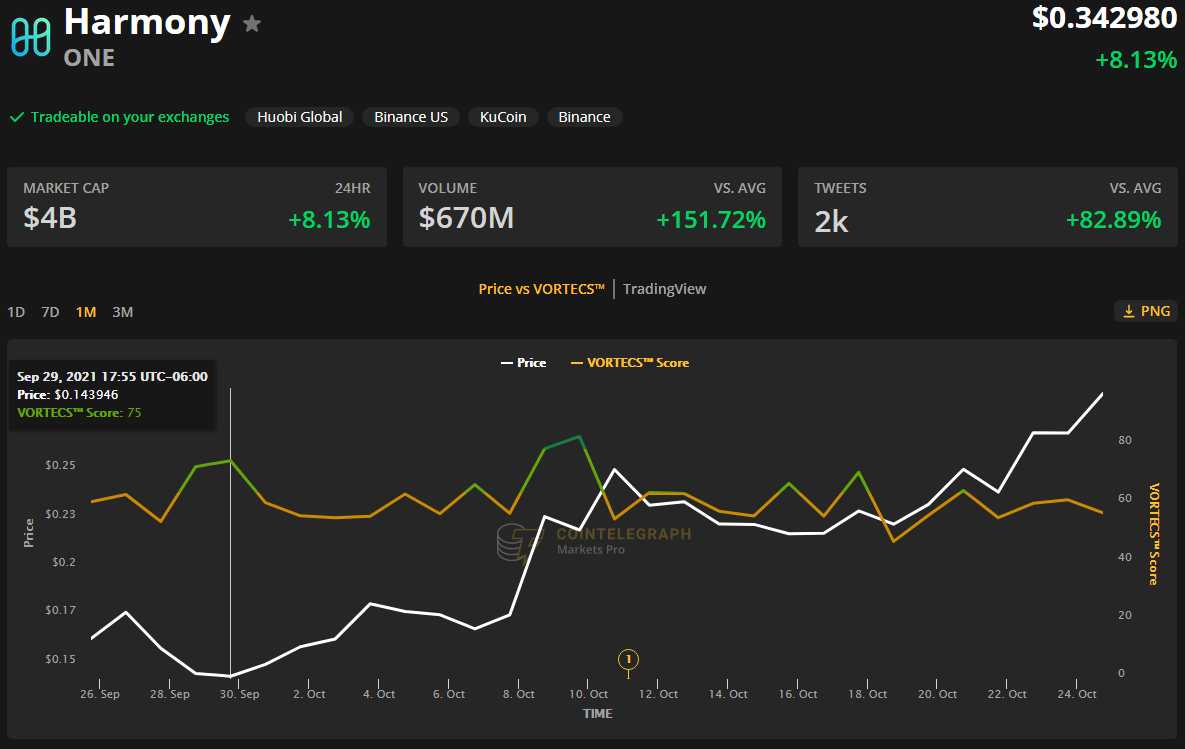 The price of ONE rose into the green zone and reached a peak of 75 on September 29, just twelve hours before the price began to rise by 147 percent during the next month.
The author's thoughts and opinions are entirely his or her own and do not necessarily reflect those of CoinNewsDaily. Each investing and trading action entails risk; before making a decision, you should conduct your own research.