Whoever coined the phrase "sell in May and go away" had brilliant insight, and the performance of crypto and stock markets over the past three weeks has shown that the expression still rings true.
May 20 has seen a pan selloff across all asset classes, leaving traders with few options to escape the carnage as inflation concerns and rising interest rates continue to dominate the headlines.
Data from Cointelegraph Markets Pro and TradingView shows that the price of Bitcoin (BTC) taking on water below $29,000, and traders worry that losing this level will ensure a visit to the low $20,000s over the coming week.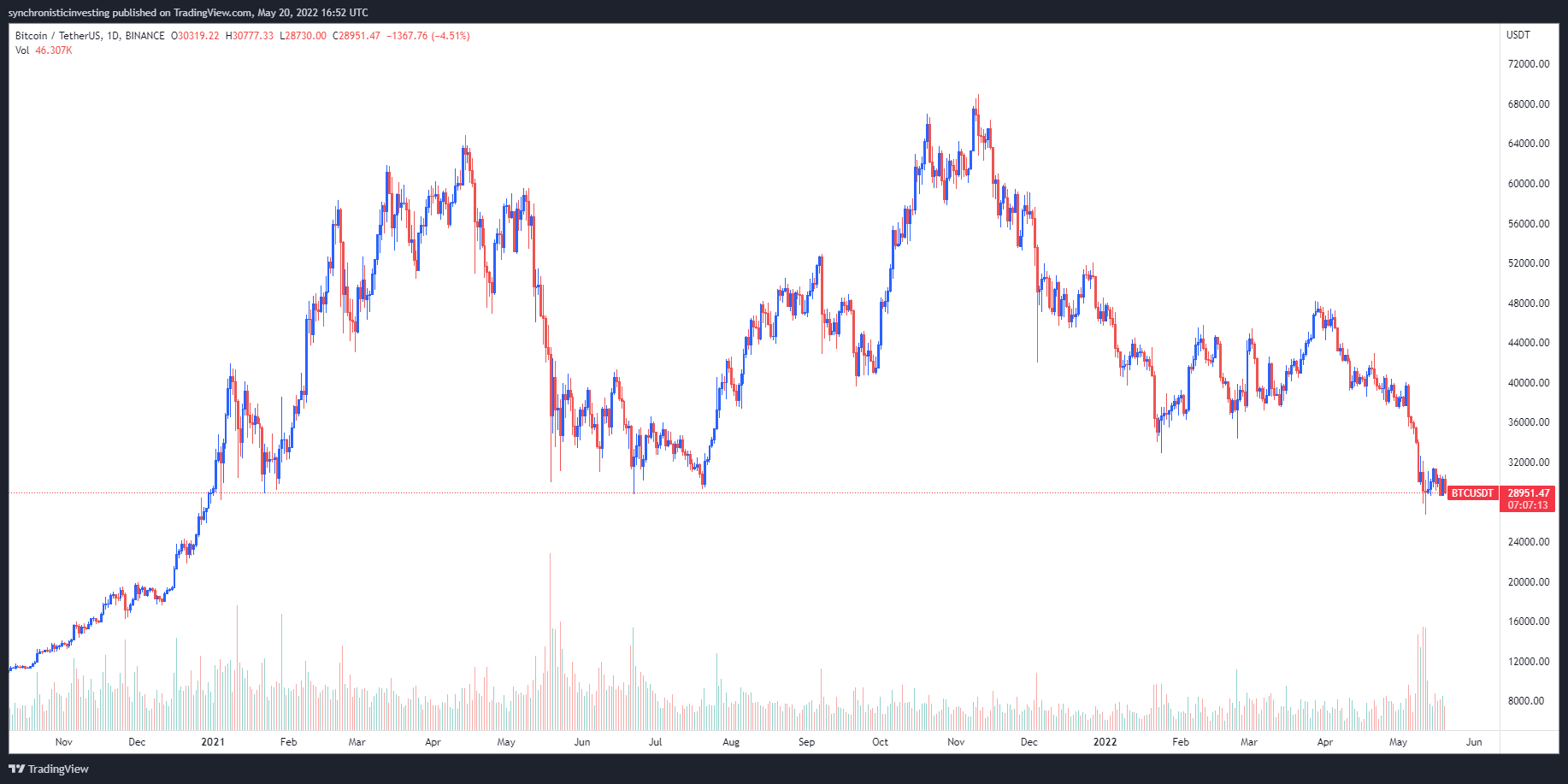 As reported by Cointelegraph, some analysts warn that BTC could possibly decline to $22,700 based on its historical price performance following a death cross.
Further evidence of muted expectations from traders can be found in the put/call ratio for BTC open interest, which hit a 12-month high of 0.72 on May 18, according to the cryptocurrency research firm Delphi Digital.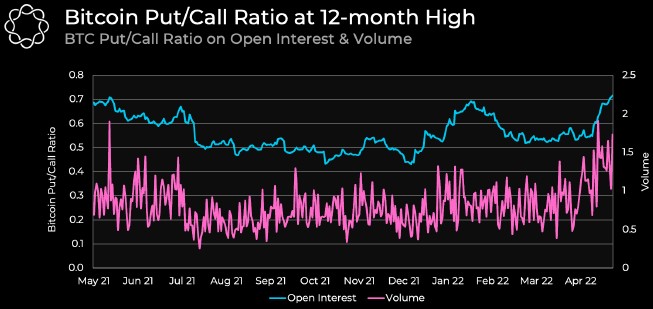 Delphi Digital said:
"A high put/call ratio indicates that investors are speculating whether Bitcoin will continue to sell off, or it could mean investors are hedging their portfolios against a downward move."
Stocks enter bear market territory
May 20 brought more pain to the traditional markets as the S&P 500 fell another 1.62%, marking a more than 20% decline from its January 2022 all-time high and further stoking recession fears. If the index manages to close the day down 20% from the all-time-high, that would officially put the benchmark index in bear market territory.

The Nasdaq Composite and Dow have also seen significant losses amid the widespread weakness, with the Nasdaq losing 275 points for a 2.42% loss, while the Dow has fallen 362 points, marking a decline of 1.28%.
Related: Crypto veterans extend a helping hand to bear market newbies
What's bad for BTC is even worse for altcoins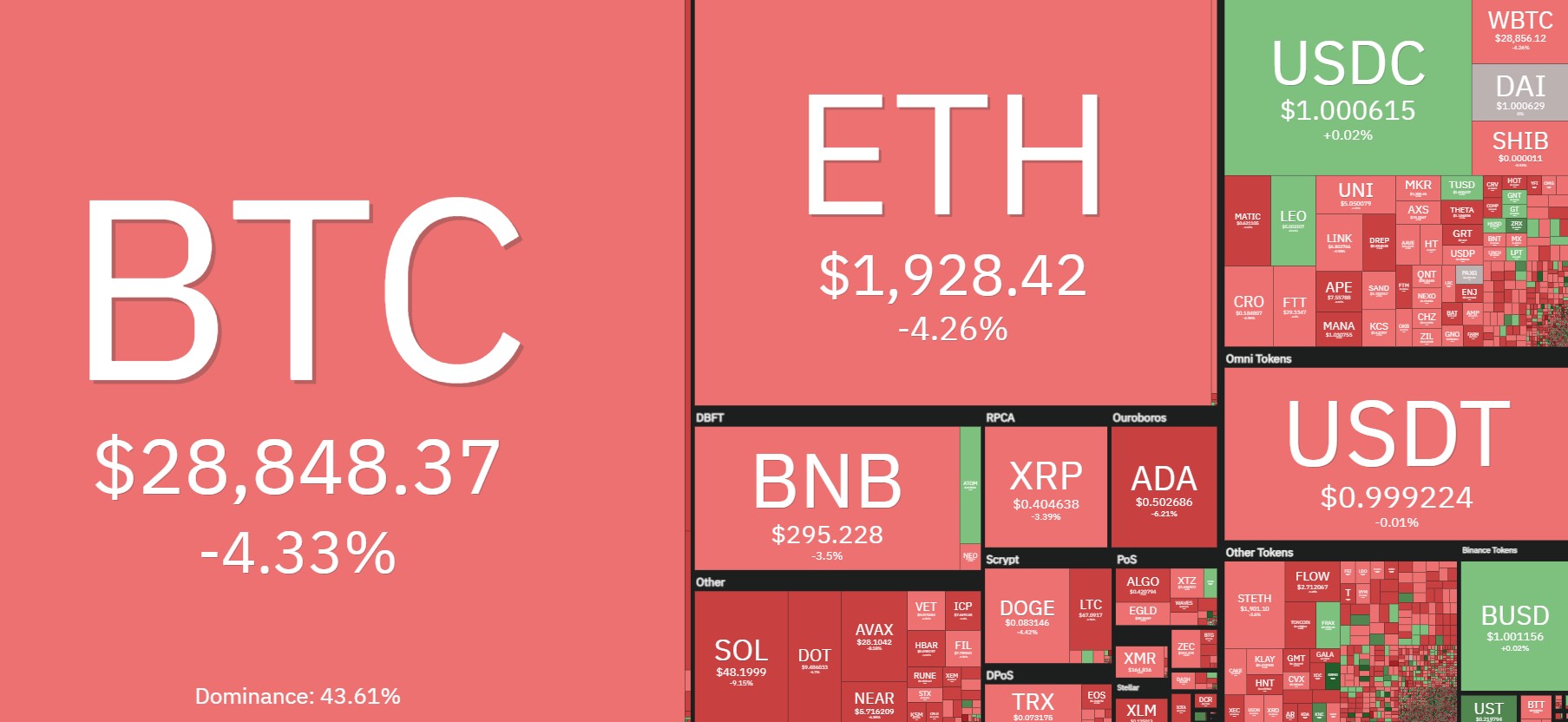 Altcoins also sold off sharply as BTC, Ether (ETH) and stocks pulled back, reversing the gains seen earlier on the day.
The few bright spots were Ellipsis (EPS), Persistence (XPRT) and 0x (ZRX), which gained 30%, 13.92% and 12.34%, respectively.
The overall cryptocurrency market cap now stands at $1.234 trillion and Bitcoin's dominance rate is 44.6%.
The views and opinions expressed here are solely those of the author and do not necessarily reflect the views of Cointelegraph.com. Every investment and trading move involves risk, you should conduct your own research when making a decision.
On Thursday, March 12th, the S&P 500 index, a major indicator of stock market performance, registered its worst day since 1987 and seemed to be heading for a bear market. This was prompted by a 20% drop from its all-time high of 3230 points reached in mid-February.
Trading volume on US exchanges was also double the usual amount on this day, further proof of increasing investor fear. Financial experts have attributed this dramatic fall to several factors, including escalating worries of a drawn-out global economic slowdown due to the coronavirus pandemic and a slump in oil prices.
Consequently, Bitcoin and altcoins seem to be following suit, with the majority of them experiencing a significant price drop. While Bitcoin has tumbled by nearly 30%, some altcoins, such as Ethereum and Litecoin, have lost around 50%.
It is encouraging to see that despite the market volatility, many investors remain eager to buy on the dips and trade on lower levels. As such, some volatility should be expected in the short term.
However, experts such as Mark Mobius are optimistic that the longer-term picture could be more positive. Mr. Mobius, an emerging markets veteran, believes the markets will eventually stabilize and new money will eventually enter the market, pointing specifically to Asian investors taking part in the rally.
Given the current economic climate, investors would do well to remain prudent and diversify their portfolios to include a mix of stocks and digital currencies, such as Bitcoin and altcoins. This way, they can both benefit from the current dip and have a safer investment in the long term.