XRP price continued its downtrend
The new support line is forming
The lowest price achieved since December 2017
Daily XRP/USD price chart
Ripple XRP, as well as all other major cryptocurrencies, recorded substantial loses in the last 24 hours. XRP price against U.S. Dollar has suffered a sharp decline from its recent high of $0.32700 set on the 18th of September. The coin now trades around $0.23700, where the new support line seems to be forming at the moment. On 24th of September 2019, XRP price went as low as $0.21514. This is the lowest XRP price since December 2017. Low tail candlestick formed during that move. Subsequently, the price moved up by 2 cents, a possible suggestion of the lack of bearish interest at that low level at the moment.
Technical indicators on a weekly chart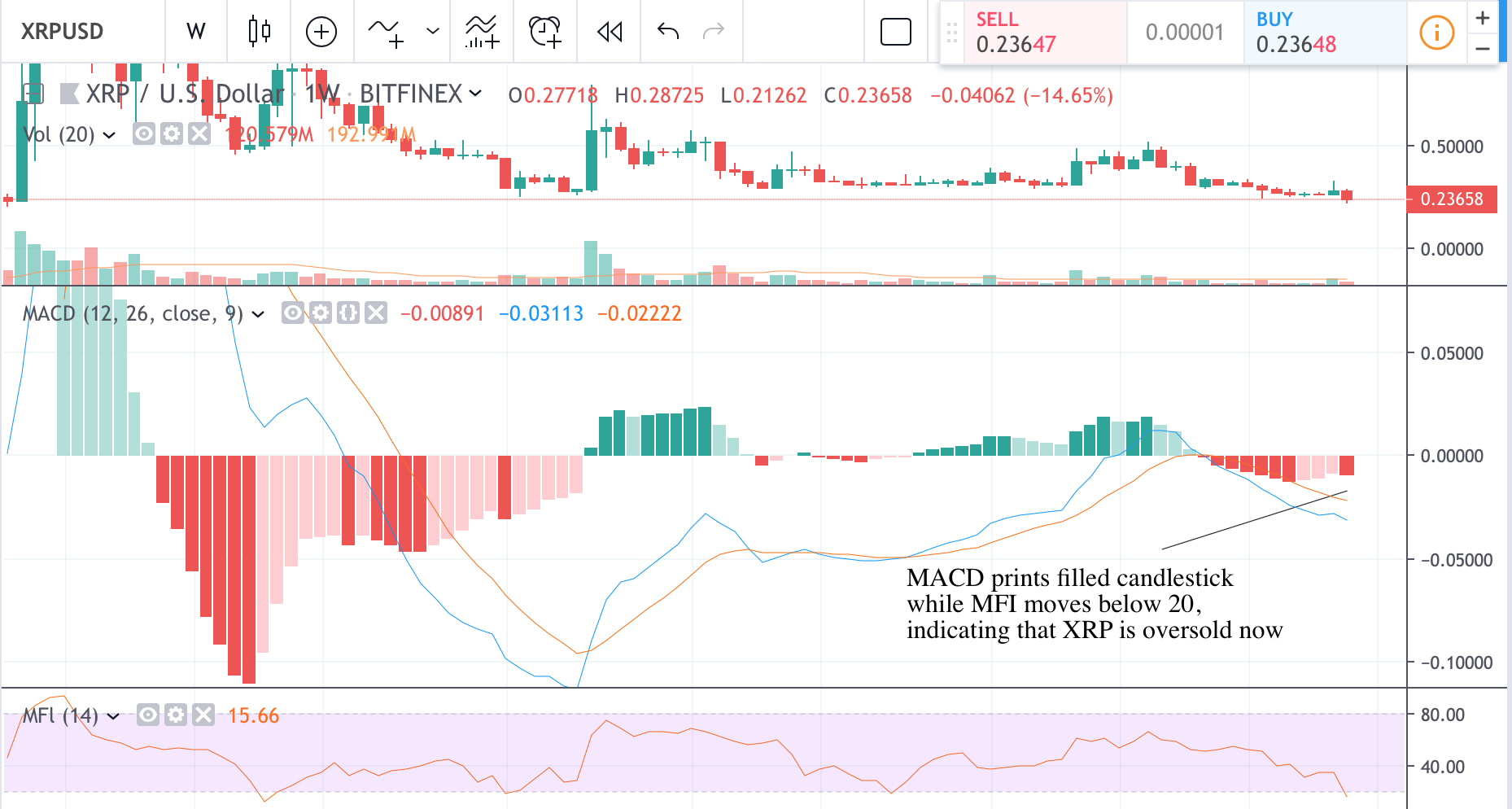 There seems to be a loss of bearish momentum as indicated by printed filled candle on MACD on the weekly trading chart. To confirm that it may not be the best of times to go short on XRP, one should also look at Money Flow Index indicator which is now below the value of 20, a clear indication that XRP is oversold at the moment.
Chart source: Tradingview
Disclaimer: Markets, instruments, and advice on this page are for informational purposes only and should not in any way come across as a recommendation to buy or sell in these assets. You should do your own thorough research before making any investment decisions. Ripplecoinnews does not in any way guarantee that this information is free from mistakes, errors, or material misstatements. Investing in Cryptocurrencies involves a great deal of risk, including the loss of all or a portion of your investment, as well as emotional distress. All risks, losses, and costs associated with investing, including total loss of principal, are your responsibility.
Credit: Source link