Sushiswap is a fork of Uniswap that provides a decentralized cryptocurrency exchange. The features of Sushiswap and what makes it so unique and problematic at the same time will be discussed in this SUSHI price prediction blog. It's Ethereum-based technology. Sushiswap aims to entertain a group of crypto users to cooperate on a platform to sell and buy crypto assets. If you're new to Sushiswap, don't worry; we've put together handy research on the Sushiswap crypto guide for you.
So without wasting any time, let's get started.
What is Sushiswap?
Sushiswap is an AMM developed by Chef Nomi. The user will contribute liquidity to the pool and collect SUSHI tokens as a reward. This process is similar to Uniswap, but SUSHI tokens allow you to keep some of the benefits even if you don't use liquidity. A bonus scheme has been created to enable users to build liquidity on Sushiswap. Vendors earn pool trading payments only when their funds are in the pool with Uniswap. Passive income gets dominated as soon as they take it away.
Furthermore, as the protocol progresses and trading volumes expand, the project's income becomes more limited as significant investors, mining pools, investment funds, and other organizations join the project. We can say that Sushiswap's main feature is that users can deposit tokens into liquidity pools to gain money.
SUSHI – The Native Token of Sushiswap
SUSHI is the native token of Sushiswap. Liquidity mining will get you SUSHI tokens as a reward. The SUSHI token enables its owners to vote on the platform's governance. They will also receive a share of the payments. Traders are responsible for paying the fees according to the protocol. Holders of sushi tokens will vote on and submit a Sushi Swap Improvement Proposal (SIP).
A brief history of Sushiswap
Two anonymous developers created Sushiswap in the year 2020. While their history is brief, it is full of thrilling plot twists and controversies. Sushiswap was a massive smash, with $ 1.27 billion invested in sushi contracts as of September 6, 2020.
It was discovered that the issue arose when one of the network's founders, Chef Nomi, had sold all of his Sushi tokens worth $ 14 million, causing their prices to drop by more than 50%. Sushiswap was widely regarded as a fraud, with many users declaring it to be a money-making scheme. Chef Nomi apologized to users and returned all funds to Sushiswap on September 11. The project's original developer is no longer affiliated.
Sushiswap Historical Price History and Analysis
The SUSHI token was released on August 28, 2020. The price of SUSHI started at USD 3.44. Following that, both the cap market and the price increased. The price skyrocket to USD 10.19 by September 1. After that, the cost of SUSHI started to fall slowly and steadily over the months. It began to grow in the middle of November. However, due to the bull market impact, the price of SUSHI steadily decreased, reaching USD 2.687 by the end of 2020.
Furthermore, as the year progressed, the price continued to rise. The price began to grow slowly. On January 9, however, it fell from USD 4.67 to USD 3.40. However, by January 16, it had quickly risen to USD 7.37. Since then, the coin is going in a perfect flow on the heights. We have personally analyzed the price of SUSHI and we have experienced 20% growth in the last 15 days.
Sushiswap (SUSHI) Price Prediction 2021
According to researchers, the SUSHI/ETH yield hit 1500 percent in a year last November. At the start of 2021, the need to receive SUSHI tokens to compete in the pool resulted in positive price adjustments. With a market cap of $1,604,882,796 and a current price of $19.89, Sushi is projected to remain bullish until the end of the year. The circulating supply of Sushi is around 127,244,443 SUSHI at the time of writing this Sushi price forecast, and the 24-hour price shift is almost 20 percent.
SUSHI Price Prediction 2022
However, since the SUSHI/USD price rises with increased trading volume, Sushiswap can find it challenging to sustain a low trading volume because new coins are added to the circulation, diluting the supply. Even though the 100 percent return is considered necessary, putting an end to any more expectations of a price rise, bringing Sushiswap to $40 for the first time at the beginning of the year 2022.
Sushiswap (SUSHI) Price Prediction 2023
Sushiswap's potential is supported by the strong support network provided by affluent Chinese entrepreneurs. Sushiswap's prices have shown dynamism and fluctuation simultaneously, as they have been discussed and the coin is being gone to many experiences repeatedly. Considering the opinions of analysts, Sushi price predictions, and guidance from the owners, the asset price may rise once more if we follow the careful planning strategy, reaching $65 to $70 by the end of 2023.
Sushiswap Price Prediction 2024-2025
Some experts also believe that the Sushiswap team falls short of going on a destructive collaboration spree, which could bring the entire chain of events for the native token into disrepair. According to an optimistic projection for the years 2023 and 2025, the price change of SUSHI is set to take off on an incredible journey, with a growth rate of 1325.589 percent in the next five years. Sushiswap markets will also surprise its fans by pegging at $100 by 2025, according to technical research.
What Media Think About Sushiswap
Wallet Investor Sushiswap Price Prediction
Wallet Investor's prediction was based on artificial intelligence-assisted technical Analysis. According to their findings, the Defi token has improved dramatically. The bullish trend is predicted to begin in 2021, according to their prediction. Sushi prices are forecast to increase by more than 40%, according to Wallet Investor.

In 2021, the platform predicts that the coin will reach an average price of $40.19, with a low of $36.185 and a high of $44.96. Wallet investor is a bit optimistic about have the positive expectation of this coin. They think that the coin will cross the $130 mark by 2026.
Changelly Sushiswap Price Prediction
Changelly's prediction is based on a business study of data-gathering services that use Al calculations. The prediction website analyzed the data from various markets. And, based on their technical research, Changelly analysts say SUSHI's price could rise to as high as $47 in favorable conditions.
CoinArbitrageBot Sushiswap Price Prediction
The CoinArbitrageBot forecast suggests investing in SUSHI coin because the price is predicted to increase in the long run. CoinArbitrageBot analysts say the currency could still drop to about $5.85 or rise to $24.15 in 2021.
DigitalCoinPrice Sushiswap Price Prediction
A cryptocurrency forecasting firm named in the market as DigitalCoinPrice has made SUSHI token predictions for 2021. They expect the price to rise to $32.93 by the end of the year, representing a 64.26 percent increase. The DigitalCoinPrice prediction can be described as a clear bullish run. By 2028, they are expecting to cross the $100 mark.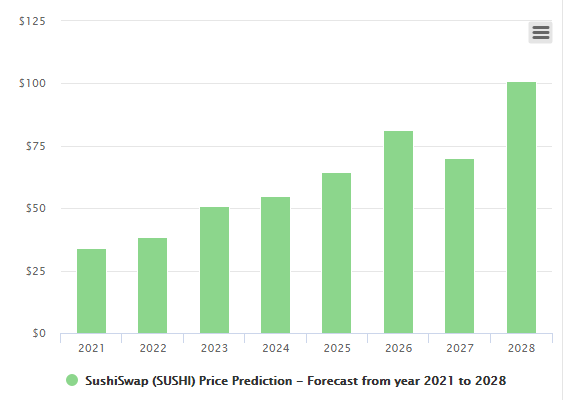 Our Price Prediction of Sushiswap (SUSHI)
SUSHI is a decentralized exchange that was first developed on the Blockchain of Ethereum. We can say that after hitting very lows on many points throughout the year, the coin has risen from the ashes. The future prospects of the coin are somewhere promising. It looks like the investments that have been made previously by traders and SUSHI lovers are going to double up in numbers. Our analysts think that the coin will reach a 5x to 10x mark in no time.
Sushiswap Current Price Hike
Sushiswap is now the world's 34th largest cryptocurrency that increases by more than 36.76% during the last week, with a market cap of $2,877,716,385
Where to Buy and Store SUSHI?
Decentralized wallets like Metamask and Wallet Connect can help you to store the SUSHI token. Metamask is the most convenient approach since it is loaded directly into the browser in a matter of seconds. You can use the wallet to log in to Sushiswap and instantly transfer or withdraw funds from the pool. Any exchange can be used for short-term storage.
The SUSHI token is available on several different exchanges. Binance, OKEx, Huobi Global, Sushiswap, Bitfinex, and BKEX are among the most numbering exchanges.
Sushiswap Price Prediction FAQs
Is Sushiswap (SUSHI) a good investment?
Yes, without a doubt, Sushi will prove to be a leader in the entire cryptocurrency environment based on its fundamentals of stability and robust liquidity exposure. On a negative scale, while not breaking the bank in terms of costs, this digital asset will undoubtedly stand firm on its feet.
Will the Sushiswap coin price reach $50?
Sushi rice can estimate exponential or high growth based on short-term price predictions, mainly because most cryptocurrencies have taken a hit due to the Pandemic. Sushiswap is in the same boat. On the other hand, the token has many potentials, so the growth rate is expected to be high. Now that the Pandemic has passed, it will be great news for Sushi as well.
What are the SUSHI reward programs?
Naturally, buyers and traders worldwide are encouraged to invest in it because of the promising opportunities it provides. Sushiswap, which is surrounded by several alliances, is also expanding its customer base through promotional initiatives.
Our Final Verdict
Sushiswap has had a crazy ride so far, and it seems that there will be many more to come. A word of warning, however, if you think. The platform's current returns are competitive enough to attract a large number of people to invest. In the long run, it seems that these profits would be unsustainable. Besides, the project's creators are primarily unknown.
For more queries or if you think you are confused t9 make a call, comment below and we will try to help you as much as we can.