In times of high stress and market turmoil, sports entertainment has served as a valuable escape for people around the world as they get a chance to root for their favorite players and teams while briefly forgetting about the worries of the world.
Amid the ongoing market volatility and falling crypto prices, sports fans have cause to rejoice as multiple fan tokens have bucked the downtrend on May 18 to post 40% plus gains.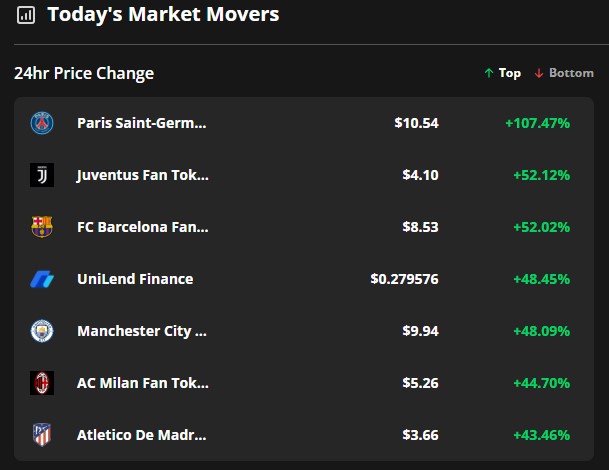 Here's a look at the recent developments that have helped propel Paris Saint-Germain (PSG), Juventus (JUV), FC Barcelona (BAR) and other fan tokens to the top of the charts on May 18.
Chiliz Testnet Phase 2
The biggest driver of momentum for fan tokens appears to be coming from new developments on the Chiliz protocol, which operates Socios, a blockchain-based sports entertainment platform.
On May 17, Chiliz revealed the launch of Jalapeno, the second phase of its Scoville testnet, which is part of the broader launch of the Chiliz mainnet.
– JALAPENO starts! ️

✅ DEX: PepperSwap
✅ Fan Token Test Surveys

⚡️ $CHZ pic.twitter.com/eqXPk1HeIT

— Chiliz ($CHZ) – Powering Socios.com ⚡ (@Chiliz) May 17, 2022
A few of the new features to be tested in Phase 2 include the launch of PepperSwap, which will provide a decentralized exchange and fan token test surveys, which allow token holders to begin participating in surveys and governance votes on the protocol.
Eventually, users will be able to interact with the community of specific fan tokens and vote on developments that they would like to see for that club through fan token surveys, which is one of the features in which many investors were initially interested.
Fan tokens list at a new exchange
A new listing at BitPanda could be another reason why fan tokens rallied on May 18.
Say bonjour to one of our latest #CryptoWednesday listings: $PSG, the native token of @PSG_inside + @socios that gives fans the power to vote on club decisions and access VIP events. pic.twitter.com/ISko87ZKt3

— Bitpanda (@bitpanda) May 18, 2022
According to BitPanda's Twitter, at least seven fan tokens listed on May 18.
Related: Exploiting sports fans through NFTs won't lead to a W
Token burns reduce supply
Another factor providing a boost to fan token prices is the Chiliz Head2Head burn competition which burns a portion of the fan token circulating supply based on the results of live matches between clubs.
#Head2Head Burn

Fan Tokens will be burned for every goal scored during @juventusfc vs @inter at 21:00 CEST today

1 x $JUV, $INTER goal = 2,000 Fan Tokens

1 x $JUV, $INTER win = 4,000 Fan Tokens

⚡ $CHZ pic.twitter.com/c4ugx2xM8B

— Chiliz ($CHZ) – Powering Socios.com ⚡ (@Chiliz) May 11, 2022
Based on this design, the Head2Head burn mechanism will affect the tokenomics of a project over time by helping to reduce the circulating supply of tokens, which has the potential to result in a price increase if demand stays elevated.
It also provides a way to see the performance of a team reflected in its token supply, with better performing teams seeing more of their token supply burned. If the Head2Head burn process proves effective, it could potentially increase the value of certain teams due to the reduced circulating supply.
The views and opinions expressed here are solely those of the author and do not necessarily reflect the views of Cointelegraph.com. Every investment and trading move involves risk, you should conduct your own research when making a decision.
In the blockchain-based gaming and entertainment app, Chiliz is an Ethereum-based token token system that has recently been rolling out its mainnet upgrade, followed by a token burn. Alongside its mainnet upgrade, the Fan Tokens of major sports teams have seen sharp rallies in price.
Chiliz is a digital token system that uses the Ethereum blockchain, allowing for seamless and reliable transactions within the gaming and entertainment app. Fan Tokens offer fans an array of benefits, including the potential ability to influence on-field decisions and the chance to win exclusive rewards. The MainNet upgrade and burn plan has provided a major boost in value to its Fan Tokens, with some rising in value by an astonishing 40% or more.
So far, the Fan Tokens of major teams such as Paris Saint-Germain, Juventus, AS Roma and Atlético Madrid have seen significant jumps in value since the announcement of the MainNet upgrade and token burn. This comes after Chiliz managed to secure partnerships with some of Europe's biggest teams, allowing them to be one of the few platforms that offer fans a wide range of Fan Tokens for major clubs in various football leagues.
It's fair to say that this MainNet upgrade and token burn has been a huge success for Chiliz, boosting the Fan Tokens of its partners significantly in a relatively short amount of time. Not only does this bode well for the digital token system, but it also provides some insight into the rising popularity of cryptocurrency within the world of football and sports. As more and more teams continue to embrace cryptocurrency, the hope is that in the near future, Fan Tokens become an important part of the landscape in the world's most popular sports.