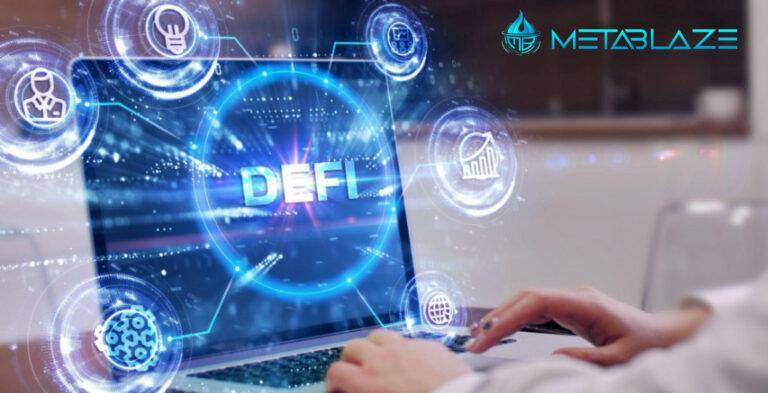 17th January 2022, Wilmington, Delaware Chainwire
METABLAZE has announced the start of a pre-sale of its unique BSC-based utility coin, $MBLZ, on February 14, 2022. METABLAZE is a developing project with an evolving roadmap that is poised to disrupt the cryptocurrency space.
What exactly is METABLAZE?
METABLAZE is a rapidly expanding decentralized finance (DeFi) gaming and non-financial transaction (NFT) platform that integrates several of the most popular components of blockchain and brings users to the Web 3.0 world. The platform is built on the Binance Smart Chain (BSC), which assures METABLAZE's community members receive a high-quality experience.
The major objective of METABLAZE is to provide its holders with multiple opportunities to earn cryptocurrencies passively and grow their portfolios. This is accomplished through the use of its native $MBLZ token and a method that enables holders to acquire extra METABLAZE tokens passively with each transaction. Additionally, its decentralized application (BLAZEdApp) incorporates a mechanism that enables users to select any BSC-based coin as a reward. Additionally, the token features an autonomous deflationary mechanism that burns tokens with each transaction, progressively depleting the token supply and assisting in the token's price stability over time.
The rewards-driven platform will include an immersive play-to-earn RPG-based strategy game called BLAZIVERSE, which will enable additional opportunities to earn, spend, and passively produce extra tokens and in-game awards. The ambitious project will be launched over the next several years, gradually increasing the value and functionality available to its users and token holders.
Phases of the Token Pre-Sale
The $MBLZ token has a fixed quantity of 420,000,000,000 tokens, of which 5% will be made available during the presale. Participants in the inaugural presale offering will receive a 20% discount on the $MBLZ token price, an extra 10% in bonus tokens, and Founders Club NFTs for making a minimum $10,000 contribution to the project.
Following the initial presale, METABLAZE will launch a second presale. Participants will receive a 5% token bonus throughout this period.
Tokens will be distributed through airdrop to presale participants' BSC wallets, coinciding with the end of the presale rounds and enhancing PancakeSwap's liquidity.
NFTs METABLAZE
Additionally, METABLAZE integrates one of the most prominent Web 3.0 trends, Non-Fungible Tokens (NFTs), which will be useable in the BLAZIVERSE game and produced on OpenSea for open trade. The presale period will feature a limited-edition collection featuring 10,000 goblins, with more mysterious creatures released quarterly.
To demonstrate their trust in the project, anybody who owns a highly exclusive Founders Club NFT will receive 10% of all secondary sales of METABLAZE NFTs on OpenSea in perpetuity.
Future Projects
METABLAZE is looking forward to a bright future with ambitious objectives. The development team is working on a variety of initiatives that will increase the community's utility and accessibility in both the short and long term. Upcoming features include listings on major centralized exchanges by year's end 2022, the launch of an NFT marketplace the following year (2023), a deeply immersive strategy game set in a Metaverse of mystical creature NFTs, and the launch of their own blockchain, "BLAZECHAIN," which will feature never-before-seen utilities set to shake up the world of all things Metaverse.
The Core Team
The METABLAZE initiative was founded on the fundamental ideals of honesty and transparency. Due to the frequency of scams and failing initiatives, METABLAZE is committed to developing a transparent and trustworthy project within its community through ongoing communication and open data.
The METABLAZE management team is comprised of six individuals who collectively have over 90 years of expertise in the entrepreneurial, fintech, banking, information technology, graphic design, project management, marketing, and software development industries.
DeFi's and Web 3.0's Future
With a scorching hot roadmap ahead, the $MBLZ token presale is only the first step of a rapidly growing platform. METABLAZE intends to use cutting-edge technology and features not previously seen in bitcoin or blockchain. METABLAZE's continuing development seeks to make it the go-to ecosystem for anybody, regardless of experience or financial resources.
Concerning METABLAZE
METABLAZE is laying a solid basis for the metaverse, enabling new and exciting opportunities for people worldwide. The METABLAZE platform enables you to create whatever environment you like. METABLAZE's extensive roadmap includes P2E strategic gaming, OpenSea-minted NFTs, and the implementation of hologram NFTs with real-world applications.