Bitcoin (BTC) set a new record low price for 2022 on May 9 as crypto markets continued selling off prior to the Wall Street opening.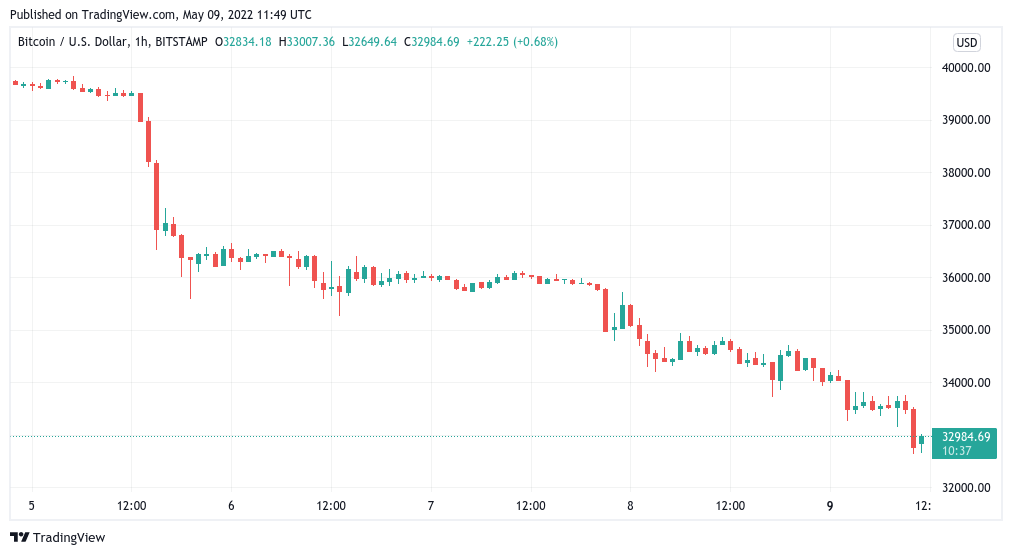 BTC price sinks under $36,700
Data from Cointelegraph Markets Pro and TradingView confirmed the firmly bearish achievement for BTC/USD, which hit $32,637 on Bitstamp.
With the latest installment of a string of losses in May, the pair continued to trade under $33,000 at the time of writing, with weekly losses now at 15%.
"Bitcoin sweeping the lows here, that's probably next liquidity," Cointelegraph contributor Michaël van de Poppe told Twitter followers in one of several posts on the day:
"We could go towards $30-31Kish as that's a daily block, but I'd be looking at longs around these regions."
$30,000 forms a popular floor level among commentators, which some nonetheless believe that Bitcoin could dive to $25,000 or even lower.
28.8k incoming https://t.co/FC7EZABqgD

— Matthew Hyland (@MatthewHyland_) May 9, 2022
Among this week is Dylan LeClair, who identified Bitcoin's realized price — the total at which each coin last moved — as a likely target.
"A bitcoin dip down to it's realized price (average on-chain cost basis) is entirely possible and has been consistent with previous market bottoms in bear market cycles," he began a Twitter thread by stating on May 9:
"Realized price is $24.3k at the moment."
LeClair added that such a capitulation would have been "unlikely" without accompanying weakness in traditional markets. This year, however, has provided just that impetus.
Going back to December, I outlined this possibility and prefaced it with the opinion that it's unlikely to occur unless a significant liquidity crises emerged in legacy markets.

Well, it looks like we're getting one.

Stay safe out there.

[3/3] pic.twitter.com/qJtNnkYysM

— Dylan LeClair (@DylanLeClair_) May 9, 2022
Bitcoin saw some support around the 2022 lows, so far avoiding a deeper retest of levels not seen since last year.
"We've seen renewed selling in Bitcoin and the wider digital token market as the prospect of increasing interest rates and a deteriorating economic environment continues to weigh on risk assets," analysts at major exchange Bitfinex, meanwhile, told Cointelegraph in private comments.
"In Europe, equities are sharply lower, following the Nasdaq experiencing its sharpest one-day fall since June 2020. Investors exiting positions may be adding some momentum to the protracted sell off that we've witnessed over the past few days."
LUNA stands out among altcoin rout
Amid a hastening sell-off, altcoins also began to lose significant value.
Related: First 6-week losing streak since 2014 — 5 things to know in Bitcoin this week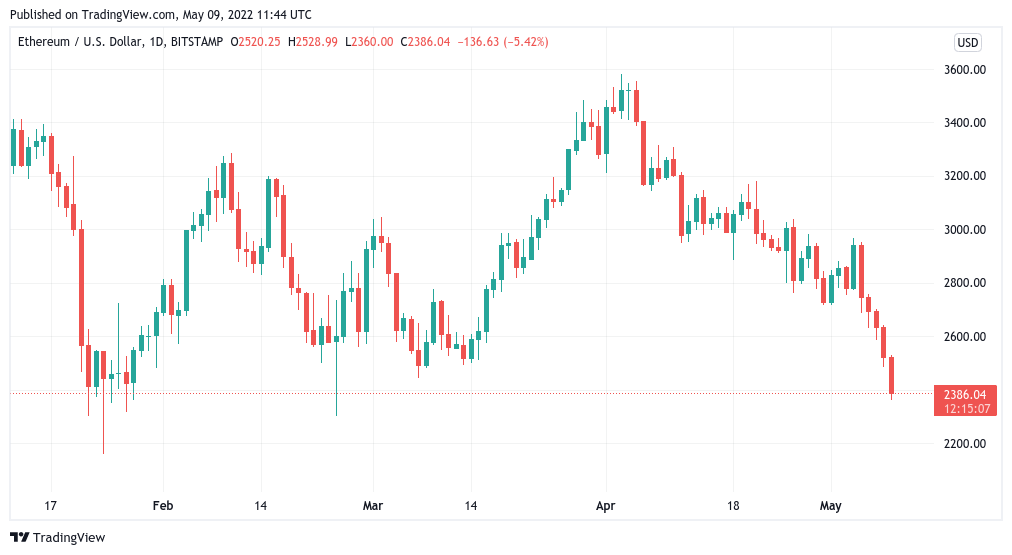 Ether (ETH) traded below $2,400 for the first time since Feb. 24, down 7% on the day in line with the majority of the top ten cryptocurrencies by market cap.
The largest weekly losses in the top ten belonged to Terra (LUNA), which shed 27% on the back of controversy over its TerraUSD (UST) stablecoin.
The views and opinions expressed here are solely those of the author and do not necessarily reflect the views of Cointelegraph.com. Every investment and trading move involves risk, you should conduct your own research when making a decision.
On Tuesday, Bitcoin plummeted almost 8% within minutes, taking its price below $39,000 for the first time since June 11, 2021. The drop to a low of $37,200 set a new low for 2021 and weakened the cryptocurrency's dominant position in the digital asset space.
Bitcoin's sudden downturn was partly attributed to rumors of a potential regulatory crackdown in China. The country has adopted a number of measures in recent months to curb the spread of cryptographic assets such as Bitcoin.
Analysts believe that the de-risking seen in Bitcoin could be a result of the growing demand for ETH. The second most valuable cryptocurrency moved up to a record-high of $2,683.83 on Tuesday, according to CoinMarketCap, increasing its dominance in the crypto space.
Nevertheless, some analysts remain bullish on Bitcoin's long-term prospects. According to Fundstrat's Tom Lee, a further slide toward $24,000 is "entirely possible" in the near future. Lee stated that Bitcoin "seems to be getting an overhang from the regulatory changes that have been in the news."
Prior to the massive sell-off on Tuesday, Bitcoin had managed to sustain its price level above $43,000 for almost two weeks. But, as the intense downward momentum shifted, the cryptocurrency stumbled to $37,200 within minutes.
As the overall market sentiment has shifted towards negative territory, analysts and traders have become increasingly skeptical about Bitcoin's chances of recovering in the near-term. With prices now sitting far below the cryptocurrency's previous all-time highs, the momentum appears to be heavily bearish.
Whilst Bitcoin's latest downturn could weigh down investor sentiment, there is no denying that the cryptocurrency still holds potential for recovery. Nevertheless, the asset's journey to a new all-time high could take longer than expected.