The cryptocurrency markets have been on fire since the beginning of November, and as of Nov. 2, an almost unfathomable number of tokens have climbed to new highs, with Ether (ETH) breaking above the $4,500 threshold and Bitcoin (BTC) recapturing the $64,000 level. Additionally, Polkadot (DOT) reached a new all-time high as investors piled into the token in anticipation of the impending parachain auctions.
The recent Altair update to the Ethereum beacon chain as part of the protocol's transition to Eth2 and a proof-of-stake mechanism, which has also resulted in more than 8 million Ether being taken from circulation and staked in the Eth2 contract, has contributed to the rise in the price of Ether.
According to TradingView data, since hitting a low of $2,780 on Sept. 29, the price of Ether has surged 62.54 percent higher in a little more than a month, reaching a new all-time high of $4,523 on Nov. 2, setting a new record for the cryptocurrency.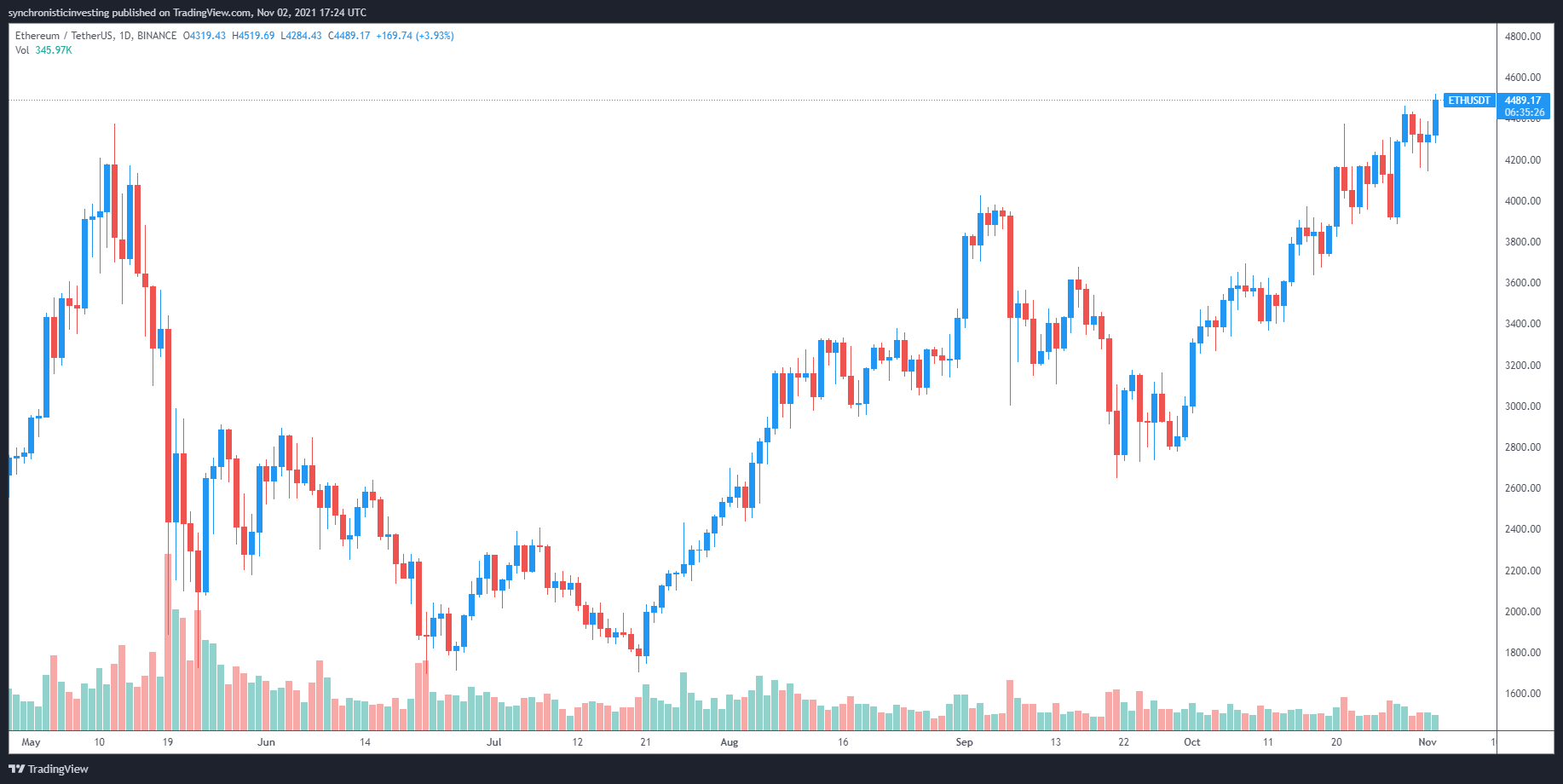 Here's what traders and analysts are saying about Ether's recent price movement and the direction the token may take in the months ahead.
ETH could "impulse wave" to $6,000
The following chart was provided by Cointelegraph contributor Michal van de Poppe, who forecasts a "impulse increase" from $6,000 to $6,400 in the price of Ether somewhere between November 2021 and January 2022, based on a basic and easy price forecast.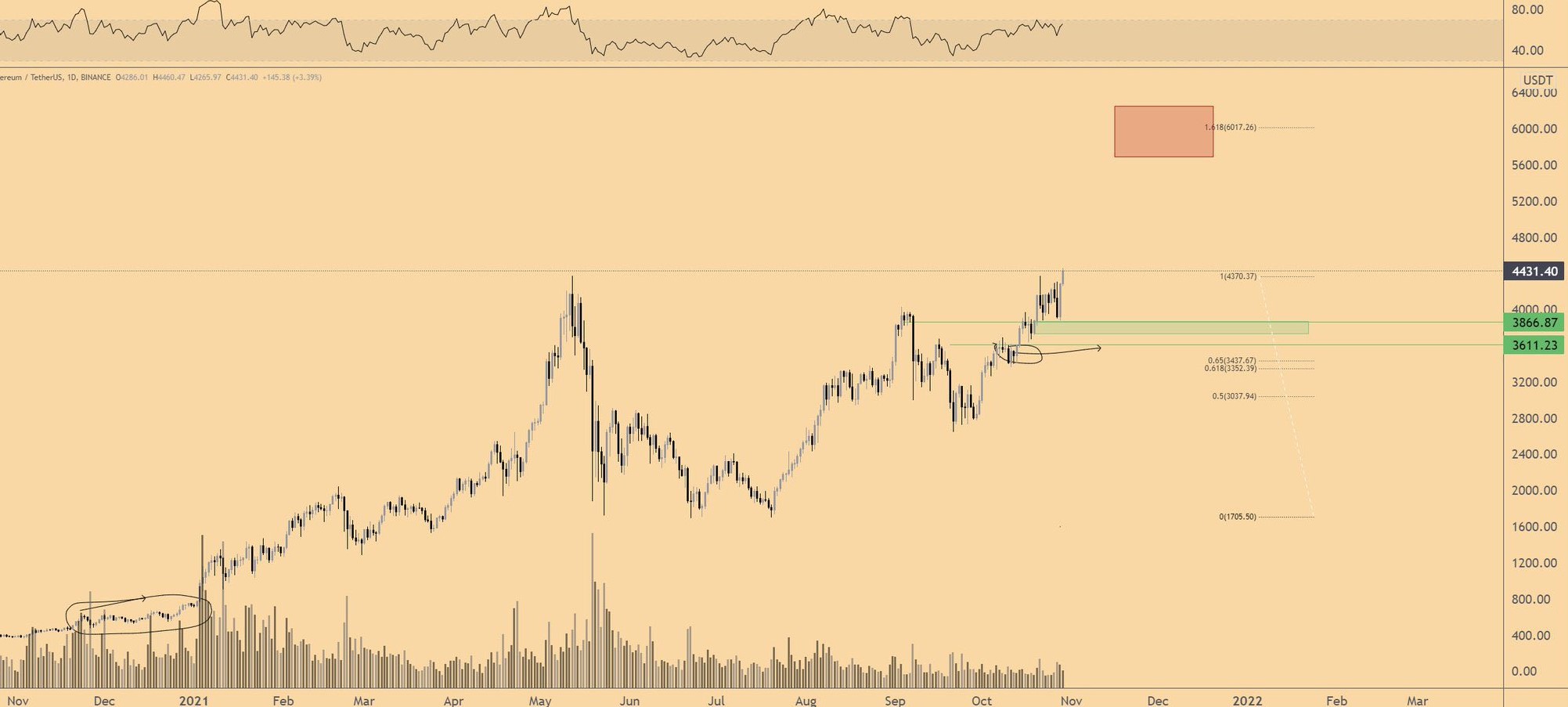 Analysts expect "another breakout soon"
An ominous warning for profit-takers has been issued by options trader and pseudonymous Twitter user 'John Wick,' who has claimed that another breakout in the cryptocurrency is likely.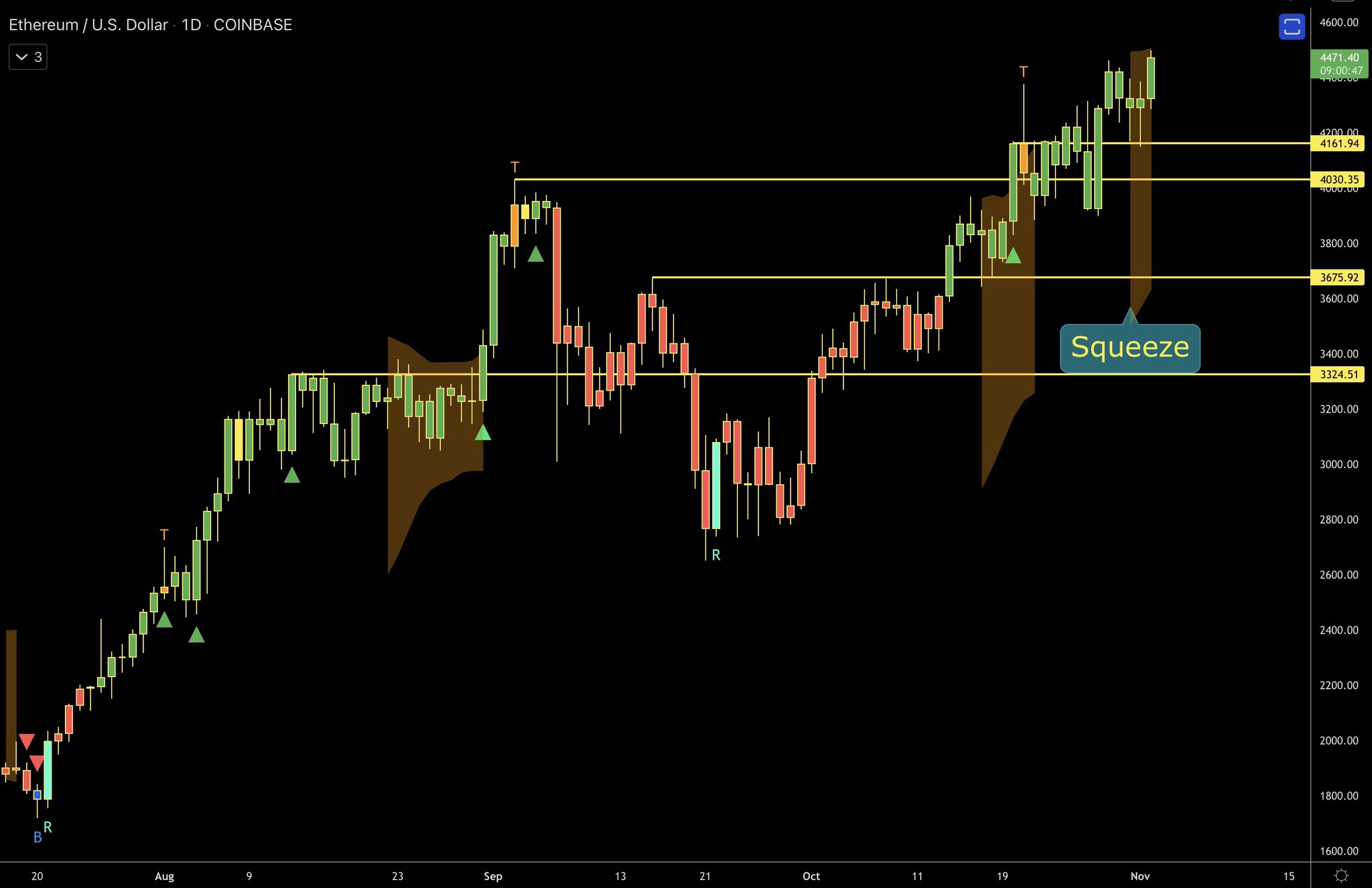 Wick said,
"Ethereum continues to make new ATHs. Those that have been waiting all those months with us absolutely deserve this… Technically, we have another Squeeze shading. Watch out for another breakout soon!"
2017 fractal points to $14,000 ETH
A final perspective offered by on-chain analyst Matthew Hyland compares Ether's price action in 2017 with the current market structure of ETH.
#Ethereum is just getting started…

The extreme move is coming

$14,000+ pic.twitter.com/5XSYoxAJ6F

— Matthew Hyland (@Parabolic_Matt) November 1, 2021
When it comes to the possibility of a rise to at least $14,000 over the next two to three months, Hyland believes the proposed fractal pattern will play out.
The total market capitalization of cryptocurrencies is now $2.728 trillion, with Ethereum having a dominance rate of 19.4 percent, according to CoinMarketCap.
The author's thoughts and opinions are entirely his or her own and do not necessarily reflect those of CoinNewsDaily. Each investing and trading action entails risk; before making a decision, you should conduct your own research.