Ripple (XRP) price stares at potential losses in the coming weeks as it breaks out of a "descending triangle" pattern, with its bias skewed toward the downside.
Major XRP breakdown underway
To recap, XRP started forming the technical structure after reaching $1.98 in April 2021, its second-highest level to date. In doing so, the token trended lower inside a range defined by a falling resistance trendline and a horizontal support trendline.
On May 16, 2022, XRP broke below the triangle's support trendline, accompanying a decent increase in trading volumes.
The move confirmed the descending triangle as a bearish reversal indicator. Meanwhile, as a rule of technical analysis, XRP now risks extending its downside move by as much as the triangle's maximum height when measured from the breakdown point, as shown below.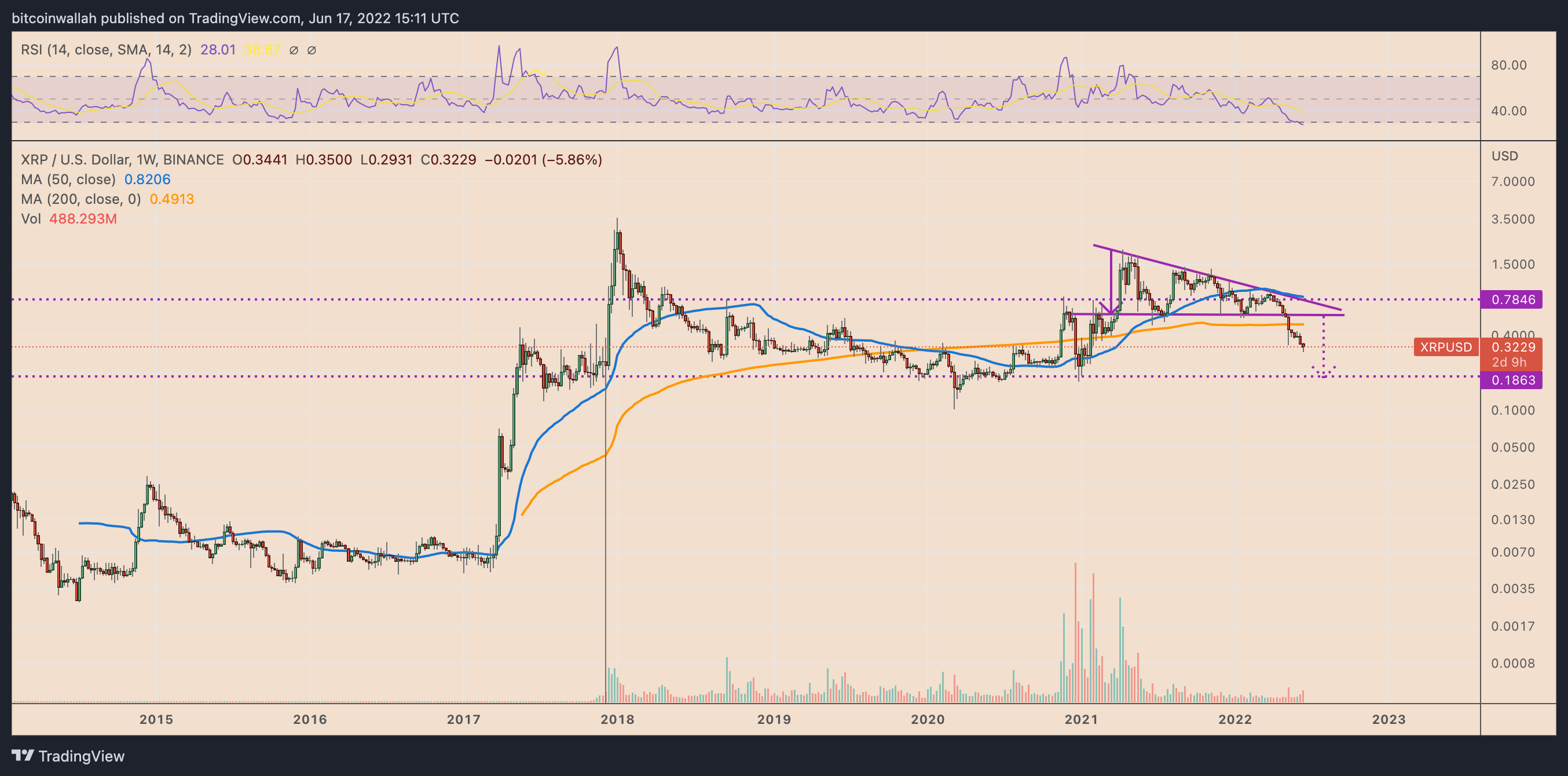 This could have XRP drop to $0.18 by July 2022, down nearly 40% from June 1's price. 
Crypto carnage
XRP's bearish setup appears amid a broader selloff taking place across the crypto market, with some tokens now trading more than 90% below their record highs established last year.
The massive tailspin began in May after Terra (LUNA) — now known as Luna Classic (LUNC) — a $40-billion "algorithmic stablecoin" project, collapsed due to the failure of its staking system. This debacle found its match in Celsius Network, one of the largest crypto lending platforms, which unexpectedly paused crypto withdrawals in June over "extreme market conditions."
Related: Finblox withdrawal restrictions trigger concerns from the community
Since then, the crypto market has been facing one piece of bad news after another, from crypto fund giant Three Arrow Capital's potential insolvency owing to bad debts and risky trades to crypto lender Babel Finance halting withdrawals due to liquidity issues.
Babel Finance 也暂停了提现业务 pic.twitter.com/9Nk1gkEmVz

— 0xEdson | web3 (@0xEdsonCrypto) June 17, 2022
Macro risks also favor XRP's downside outlook with the Federal Reserve's 0.75% interest rate hike this June 15, ensuring lower liquidity for investors to speculate on risky assets.
Nonetheless, Kevin Cage, who runs Iron Key Capital, a crypto-focused hedge fund, says XRP will "survive" the bear market.
I know for a fact that no matter how hard it gets, $XRP will survive future bear markets.

XRPL is 10 years old. Tried & true.

Ripple expanding, new partners every week, hiring 300 more people

They want clarity and will fight until the end.

SEC chose the wrong company to fight

— Kevin Cage (@Kevin_Cage_) June 14, 2022
Meanwhile, Bleeding Crypto says that XRP could fall toward $0.17 but anticipates that the token would undergo a sharp rebound move after reaching the level. 
"Looks like it may be going for a full reset of this past bull run," he wrote, hinting that XRP would reclaim $1.95–$1.98 during its next upside retracement.
The views and opinions expressed here are solely those of the author and do not necessarily reflect the views of Cointelegraph.com. Every investment and trading move involves risk, you should conduct your own research when making a decision.


Source link
The cryptocurrency XRP recently experienced a massive plunge, causing speculation as to whether the price will go even lower come July. Analysts have now identified a technical breakdown that is likely to cause the XRP price to drop by 40% by the end of the month.
The XRP decline began on May 9, when it went from a high of $0.93 to a low of $0.59, an almost 40% decline. Although the value of XRP later recovered to about $0.75, it has since dropped below $0.60, indicating that the decline is far from over.
In order to understand what could happen to XRP's value, market analysts have been examining the technical chart of XRP's price. This chart includes a range of indicators and trading signals that can provide insight into future price movements.
The most important indicator is the "death cross", which takes place when the 50-day moving average (MA) crosses below the 200-day MA. This is often seen as a bearish signal, as it's a sign that the price has become unstable.
In the case of XRP, the death cross recently occurred, suggesting that the price could still drop by another 40%. While this is purely speculation, it is supported by the fact that the death cross was followed by an increase in the number of short positions, indicating that traders are betting on further losses for XRP.
Moreover, the recent drop and the death cross have weakened the support level, making it even more likely that the price will continue to decline. On the other hand, the huge influx of new traders and investors into the market could help to stabilize the price and offset the losses.
All in all, it is difficult to accurately predict the future of XRP's price. However, considering the recent technical breakdown and the weakening support levels, it is likely that the XRP price could drop by as much as 40% before the end of the month.